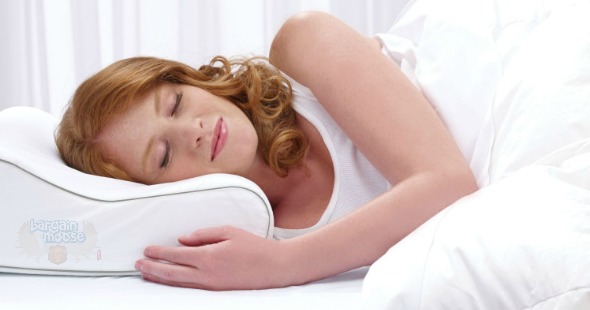 *Bump! These pillows are back again - and at an even better price*
You deserve a good night sleep. Perhaps the Simple Sleep Memory Foam Pillows from Best Buy Canada will help. These pillows come in a two pack and were originally on sale from $100 down to just $34.99, but now they are priced at just $23.99. Choose between contoured or standard, whichever helps you sleep at night. You will even get free shipping.
I have tried to sleep with curved pillows before, and I didn't like it. So personally, I would snag the Simple Sleep Memory Foam Standard Pillows for $23.99 These pillows have a greater discount than the Simple Sleep Memory Foam Contoured Pillows anyway. While the standard pillows were originally priced at $100, the contoured pillows were priced at $80 before these discounts. The pillows even have a washable cover. This will come in handy if your husband drools at night and causes that yucky yellow tinge to appear on your pillows. Even though he denies it. We know the truth, don't we ladies?
As for the Simple Sleep Memory Foam Standard Pillows, they are designed to cradle your head so you can rest easily and comfortably. They are filled with premium memory foam and will adapt to the natural curve of your spine and neck so that you get the support you need while sleeping. Getting a restful sleep is so important.
The Simple Sleep Memory Foam Contoured Pillows have many of the same qualities, but also a few differences. The design of these contoured pillows is supposed to ease pressure on your body while you sleep. They are shaped to support your head and neck without any effort. They have low-profile memory foam and offer a medium to firm support level. However, I found these pillows wanted me to sleep in one position only. Any other way I tossed and turned was uncomfortable, and I move a lot. If you prefer to switch up your sleeping positions frequently, I suggest the standard pillows as opposed to these contoured pillows... but everyone is different of course.
The Best Buy Canada website has a few sparse reviews on these pillows, but you can check out even more reviews at Amazon Canada. As Kristy mentioned in her previous post about these pillows, they tend to have a chemical odour to them when they come out of the package. I suggest giving them a quick wash with your favourite scented detergent, and voila. At Amazon.ca you would be looking at spending almost double this amount on just one pillow! So really, this is sort of like a 4-for-1 deal in that sense. These savings are only available online but spend $25 and get free shipping.
(Expiry: 29th October 2015)