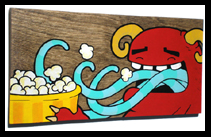 Don't we all just love to spend, spend, spend in-store @ Shoppers Drug Mart!? Well, think of doing that, plus getting rewarded with free cinema tickets too! This is what Shopper's are offering – spending $100 this weekend, on the 6th or 7th December 2008, means you get free Cineplex tickets, worth up to $25.
Yes Please!
It's super easy to spend $100 @ Shoppers. Just stock up on some essential toiletries or beauty items. You can never have enough shower gel!
Confession Time: I love popcorn at the cinema. I love it. It's crunchy yummy buttery goodness. But I know it's bad for me, I just can't help munching on it. If I know I'm going to the cinema in the evening, I won't eat supper, so I have more room for popcorn!
The worst thing about it is the noise. It's soooo noisy in the cinema when all the happy munchers are munching all around you. A really good cinema would create some a sort of little soundproofed seat each, so you can't be annoyed by anyone else's noisy enjoyment of the popcorny goodness. Well, that's my future cinema dream!
Thank you for the picture KillTaupe!