Paypal Canada has a secret offer just waiting for you in your account! This appears to be a targeted offer so you may not all have it, but I think many of you will. Receive $20 off $50 or more at Shoe Me Canada when you pay with Paypal Canada.
Even if you are eligible for this offer, you may not have received an offer for the deal. Last time one of these promos occurred, I just stumbled upon it by accident. Follow these steps to find and redeem your offer:
Sign into Paypal Canada
Select "Wallet" from the top bar
Scroll to the bottom of the page and look for "Saved offers"
Under saved offers, you should see a deal for $20 off $50 at ShoeMe Canada.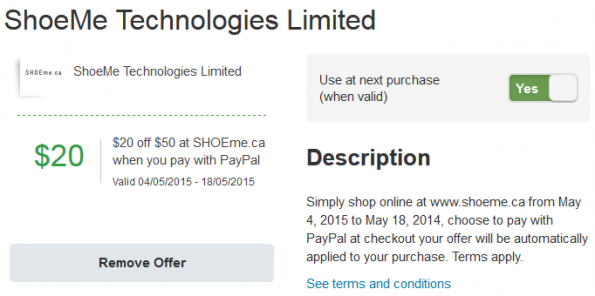 This deal is valid from May 4th through May 18th, 2015 - thus it starts today. If you have this offer in your account, then all you need to do is make a purchase and use Paypal at checkout. The discount with automatically apply to your cart. The discount is only valid towards the principle sum and is not valid toward sales tax or shipping charges. If you are completely not interested in this offer, it appears you can remove it or disable it from triggering. I have no idea why you would want to do that though.
While Shoe Me mainly sells shoes, they also sell bags of all sorts. I was looking at Herschel Supply backpacks as I am seeing the company's bags on the backs of everyone these days. The Herschel Heritage bag is an excellent choice to combine with this promo. Purchase either the Herschel Heritage (Poly Knit Navy) or the Herschel Heritage (Poly Knit Grey). Originally $64.99, each bag is on sale for $51.99. If you buy just one bag and checkout via Paypal, then your total will be $51.99 - $20 = $31.99. That is just over 50% off the original price for this backpack.
The Herschel Post bag is also an excellent choice - I like how it looks so different than a normal backpack. Choose either the Herschel Post (Paradise) or the Herschel Post (Cyan). Like the Heritage above, the Post is on sale from $64.99 down to $51.99. After the Paypal promotion, you will pay just $31.99 for one of these bags.
I hope many of our Moosers have received this promotional offer!
(Expiry: 18th May 2015)