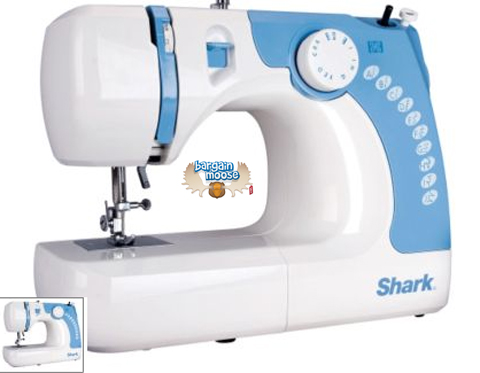 This deal is from the current issue of the Canadian Tire flyer. The Shark Easy Sew 32 Stitch Sewing Machine is regularly $159.99, but it is half price this week only. It's now $79.99.
You'll have to buy this one in-store though, cannot purchase online at Canadian Tire (sadly)!
I laughed when I saw the name of this sewing machine - The Shark. It does look a bit like a shark! I don't know much about sewing machines in general, but it could be a good one for a beginner. Reviews are mixed though, with some people saying that this sewing machine is great, and others saying that it is horrible. You decide!
I was talking about sewing with some friends the other day - doesn't that sound like an interesting conversation! But seriously, I was commenting on how people are really getting back into sewing, knitting and crafts, with the way things are in the current worldwide recession. Instead of just throwing out clothes that are slightly worn or damaged, people are finding new and interesting ways to mend them, or tailor the clothes to their individual personalities. On Etsy, I see a lot of people doing this kind of thing and selling them on for a bit of a profit.
Apparently sales of dewing machines are really increasing all over the world!
It reminds me to tell you guys about a certain Canadian store - Bargainmooser Petey recently dropped me an email about a store he found - grabascab. They sell patches which can go on kids clothing. You don't need to sew them though, they are sticker patches.
(Ends 24th December 2010)