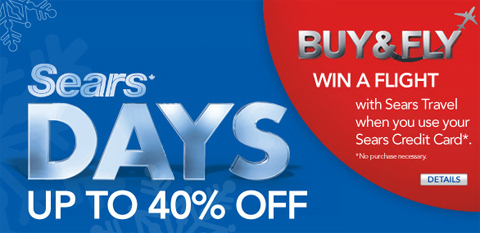 For the next 2 weeks, Sears Canada is hosing their very popular event – "Sears Days." They advertise this event with up to 40% discount on a lot of products.
It's a good time to try and make a bit of a dent in your Christmas shopping.
If you're savvy, you can probably combine the deals with a coupon code or two. For example:
[blogcoupon name="Sears" code="941612868" url="sears.ca" discount="$10 off $100" expiry="30th November 2010"]
When you click the link above, you will be able to see the various product categories, to see if there is anything you are interested in. Let me dig out some examples of special offers:
There are literally hundreds of bargains in there that I have no hope of listing them in here. Hope you find some deals!