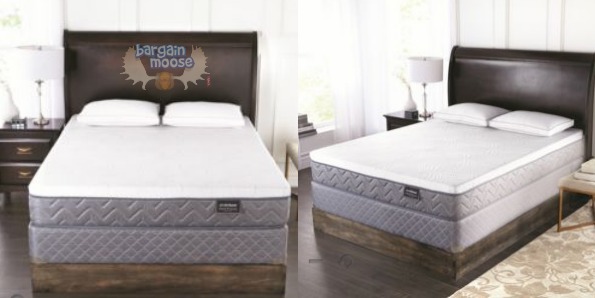 Here we go again with Sears having their mattresses on serious discount with the possibility of the order being cancelled, but also with the possibility of you getting a King size plush mattress for only $135, with a regular price of $1599.99. If the order does get cancelled, I've heard you'll get Sears gift cards to compensate and that sounds pretty nice either way you look at it.
In January, Searsdid the same thing and had king sized mattresses on sale for only $155. In February, they did it again. While a lot of people complained, many were able to score gift cards by complaining directly to Sears about how irritating it was that their orders were cancelled. For $135, this is a very solid deal on a King sized mattress and I know I'm going to take advantage, as 1) I need a new mattress and 2) I'm always up for a hot deal that might net me a prize.
Made of Bio Foam, which is made from soy based oils, this is one super comfortable mattress. It also has a trizone aquagel memory foam, which cools your body so you have a really great night's sleep. It has one five-star review saying it is a beautiful mattress.
The firm is also not a bad price, regularly $1599.99 and on sale for $719.95. This seems more realistic and might not be an order that is cancelled, but is still 55% off the regular price. I'm going to take my chances with the plush, personally.
As always, with large items like this, you are going to have to pay delivery charges or pick it up at a Sears location near you. As I mentioned earlier in my post about the play kitchen, there are Sears pick-up locations everywhere and I have one close enough that I could walk home with this mattress!
(Expiry: Unknown?)