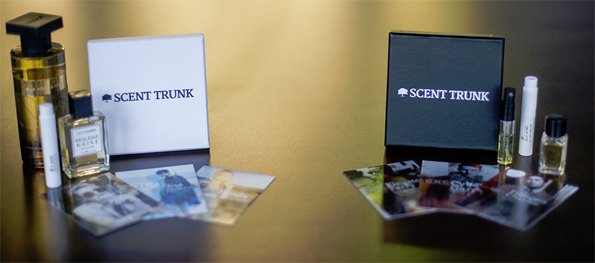 *** UPDATE - Glitch due to be fixed on the 16th May 2015 ***
Over on our coupon forums, I was creating this page for Scent Trunk, an interesting subscription service which sends a box of tailored fragrances to your door, each month. As I was finding and testing new coupon codes, I noticed that a few of the codes seemed to stack together, to give an interesting triple discount on your first month!
Click here to use the Scent Trunk coupon codes online now
CouponCode: fm20sas
Discount: $3 off your first box
Couponcode: MOTHERSDAY
Discount: 25% off your first box
CouponCode: fm1sas
Discount: $1 off
The first month of Scent Trunk usually costs $15 and free shipping. If you apply all three of the coupon codes above, you get a 25% discount as well as a $3 discount as well as a $1 discount, combining to make $7.75 off that first box, a 52% discount in total. What's odd is that some of the coupon codes on our coupon page aren't stackable – you specifically get a message saying that the code cannot be applied with other codes. But the coupon codes I have highlighted above – ARE stackable, as you can see by my screenshot with the final price of $7.25:

The second code above is related to Mother's Day which was a few days ago – this means it could expire at any time. Use this deal NOW if you are interested.
Remember, by getting this deal, you are actually signing up to a subscription service for fragrances. But there's no obligation – get your first month and then cancel the service. I was googling for reviews and there are a lot of blogs out there which have received their boxes and written a little about them. The reviews seem overwhelmingly positive, with everyone really loving the products!
I think this is a great offer to try out some new fragrances! I actually really love getting little bottles of scents rather than one huge bottle, so that you just smell the same all the time. I have a few little tester bottles which I alternate, to give a bit of variety in my smell.
Please let us know in the comments below, if you sign up and what you think!