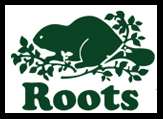 Shopping online @ Roots Canada over the next few days gets you a nice bonus in your shopping cart. Spend at least $200, and you'll get a nice $50 discount! It seems to apply to everything, even their leather items which are sometimes excluded from this kind of promotion. You'll see it automatically applied in your cart. Don't forget you can also get 3.25% cashback @ DealGuild.
This promotion should also work with all the other deals that the Roots store are running at the minute, such as the sweat and t-shirt sale where you can buy 1 and get 25% or buy2 or more for 30% discount.
Shipping from the Roots Canadian site is only $3.50, that's pretty cheap. Spending over $75 gets you free shipping anyway.
Ladies - check out their range of purple leather bags – they're gorgeous!
P.S. If you'd like to get advance notification of deals from Roots clothing, read our blog post on how to "Get To The Root Of The Discount With Roots Canada!"
UPDATE - if you want to shop in-store, they'll give you a free $50 gift card when you spend $200 or more on leather items, until Sunday 7th December 2008.