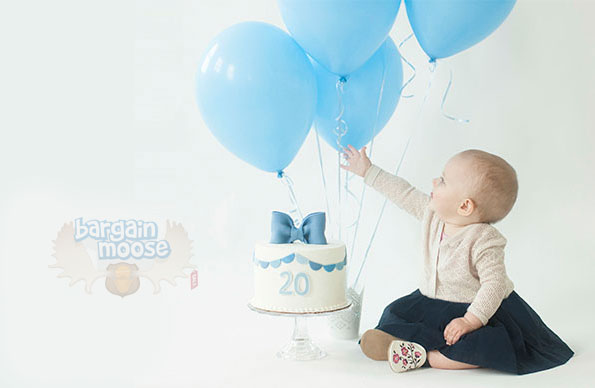 Coincidentally with the long Thanksgiving week-end, Robeez is also celebrating their 20th anniversary with a 30% discount on Mini Shoez!
Click here to shop @ MyRobeez.ca now
Coupon Code: AW23MS
Discount: 30% off Mini Shoez
Expiry: 14th October 2014
Confession time: my baby is almost six months old and I have yet to buy her a single pair of shoes. It's not out of laziness or because of budgetary reasons but really, do babies even need shoes? They certainly look cute but just like dresses that get lifted and munched on, they're just not all that practical. However, with winter right around the corner and since she is getting to be a whole lot more mobile, shoes have quickly made it to the top of my "must buy soon" list and Robeez's sale has certainly come at a good time.
Although I haven't bought any, I do know that Robeez's shoes, especially Mini Shoez are awesome. They may be a little pricey but it's sales like these that make it totally worth it especially when you consider the fact that they're shoes that have been approved by the American Podiatric Medical Association as they are flexible and non-slip. All Mini Shoez sizes are available for up to 24 months of age. Despite their approval by an American association, I actually stumbled on a very interesting piece of information while browsing their Facebook page. As it turns out, Robeez was founded by a Canadian mom! Pretty cool isn't it? :)
On their homepage, Robeez makes it clear that the 30% discount applies to Mini Shoez but luckily, this collection includes both shoes and boots. I tried the code on the Sienna mini shoez in tan and they dropped down in price to just $26.60 (reg. $38). For any of you with little girls, I highly suggest that you take a look at them as they are just beyond adorable. They're suede boots with rubber at the toes and heel areas. Plus, they have faux fur at the top and wait for this... a cute little bow on each boot!
The only Mini Shoez boots the I found for boys are the Hudson in black and they're definitely perfect for the fall season whether your child is walking yet or not. They're leather boots that are super easy to put on as there is a zipper on the side. Originally priced at $38, you can get them for just $26.60.
There are also over 20 Mini Shoez in the sale section that you can save even more on.
Shipping is free on orders over $50.