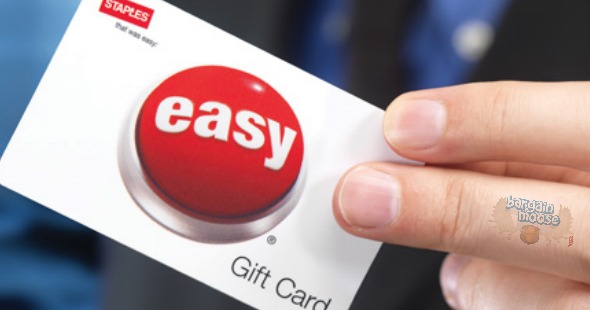 Have you happened to take a look at the Staples Credit Centre? They have a promotion on right now where you can receive a $50 Staples Canada gift card when you open a Staples Credit Card account and make a purchase of $250 or more before June 30th. Students, office workers, and even people who work from home can benefit from a Staples Credit Card, so why not make use of the $50 gift card too?
Business or individuals can reap the benefits of a Staples Credit Card. There are two different account types, and whether you open the business or the individual credit card account, you can still get a $50 gift card when you make your first purchase over $250 on your Staples Credit Card. Take a look at how the two accounts differ and make the best choice for you:
Business Account:
The Staples Credit Card business account is designed for businesses that are trying to be a little more flexible when managing their expenses. With the Business Account Credit Card, there are no annual fees. You can also have additional cards at no extra cost. Choose between paying in full, or carry the balance if you need a little more time. The account statements are also very detailed so you can see when and how you are spending your money.
Personal Account:
This account is probably better for those who are students or even self employed. If you want flexible purchasing power at Staples Canada, the credit card is a great option. There are no annual fees with this card either, and the payment options look to be flexible. You can get your statements online and even manage your account online.
So basically you will have to apply for the Staples credit card you prefer, and then make your transaction to get your $50 Staples Gift Card. There are some technical details, so make sure your purchase abides by those to get your free gift card. Here are the requirements:
net transaction of $250 after discounts
must be a single transaction
excluding any possible shipping fees
limit of one gift card per person
Your $50 gift card will be mailed to you two months following the end of this Staples Canada promotion period. That means you will receive your $50 Staples Gift Card around August 30th - just in time for back to school.
(Expiry: 30th June 2015)