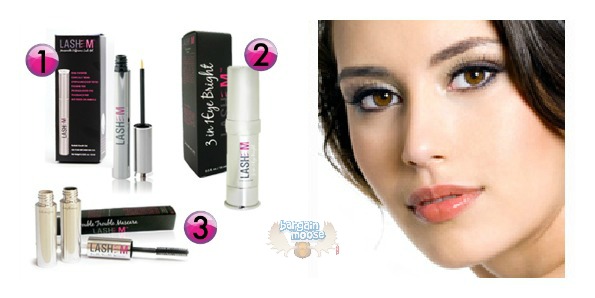 Rdeals Canada has a voucher for a Three-Step lash program by Lashem on sale for 70% off. This cannot be combined with any other offers and voucher will expire 6 months after deal closes. Valid for Canadian residents only and you may purchase up to 10 vouchers for yourself as well as 10 for gifts.
Step one is the Measurable difference lash gel. This helps enhance eyelashes and eyebrows without irritation or puffiness. I like the fact that it helps improve elasticity and adds moisture so there is less chance of eyelashes breaking off.
Step two is the 3 in 1 Eye Bright. This basically will lighten the skin around the eye area, helping to reduce signs of wrinkles as well as the appearance of dark circles under the eyes.
Step three is the Double Trouble Mascara. This mascara combines length and volume together without clumping or irritating. The formula helps hydrate and nourish your lashes to improve length and is easily removed.
The set of all three is a 60 day supply when used as directed and should assist in curled lashes without using an eyelash curler.
I don't know if I'm the only one, but finding a mascara that works, doesn't clump, is easy to remove and I actually like is very difficult. I don't know how many times I've purchase a new mascara, got it home, tried it, and it wasn't at all what I had expected. Hopefully this 3-step program will make a big difference.
Shipping: Flat rate of $6 at checkout
(Expiry: 28th August 2012)