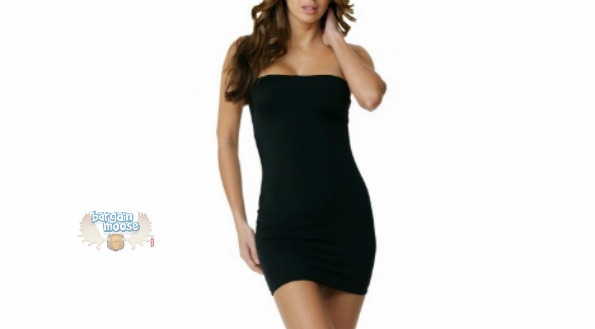 Rdeals Canada is offering a voucher for 55% off a slim-shaper dress from Bizimart. Voucher expires 6 months after deal closes and will take 2 – 4 weeks from time of redemption to ship. Cannot be combined with other offers and expires on September 2nd 2012.
The slim-shaper dress could be an under-slip or a dress. Either way you want to wear it, you will look great. This dress will actually correct your figure. The tension in the fabric is what slenderizes and eliminates any bulges. There are bottom enhancing panels for natural lifting and a non-slip band that holds the strapless slip in place. This is available in in black and nude and sizes from small to XXXL.
There are 2 options for this dress on the Bizimart website, so be sure to click on the one with discount code when redeeming your voucher. Also, I changed the currency to Canadian, which shows regular price at $54.34.
If you are anything like me, a dress like this would be a wonderful addition to your wardrobe. There are many things I wouldn't mind wearing, but really don't look quite right, unless your figure is more hourglass. I personally will take all the help I can get.
Shipping: Print voucher after purchasing, redeem online and allow 2 – 4 weeks shipping after deal closes.
(Expiry: 2nd September 2012)