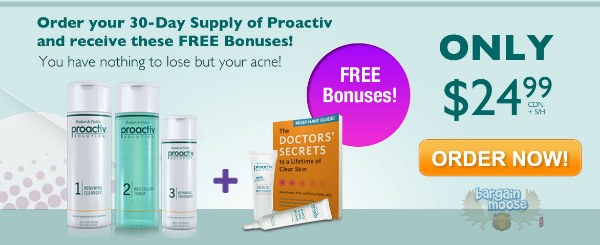 Proactiv is an complete skin care system to help you say good bye to acne. They are famous, have an amazing money back guarantee (even for empty bottles!) and could be your ticket to fresher, brighter skin. Right now they are offering a 30 day subscription (auto-renewal) for $24.99 + $6.99 S&H and you will get $36 worth of free gifts. These gifts include: Advanced Blemish Treatment, Green Tea Moisturizer and Doctors' Secrets Book.
Their guarantee is awesome:
If you're not totally satisfied with the results, simply return the bottles within 60 days, even if they're empty, for a complete refund of the purchase price (less shipping & handling). If you return any shipment within 15 days of receipt, your refund will include shipping and handling.
IMPORTANT: if you JUST want the 1 month supply, be sure to cancel your subscription before the 30 days are up or it auto-renews you. As the fine print says "You'll receive a regular 2 month supply of Proactiv® every 60 days at the guaranteed low price of just $49.99 CAN (plus $6.99 s&h per shipment), which will be billed to the same credit card you provide today." And remember, you can always return your bottles for a refund if not satisfied.
I have tried the Proactive Green Tea Moisturizer and it is pretty good. Haven't tried their other products yet but have heard ALOT about them. Maybe this time I will.