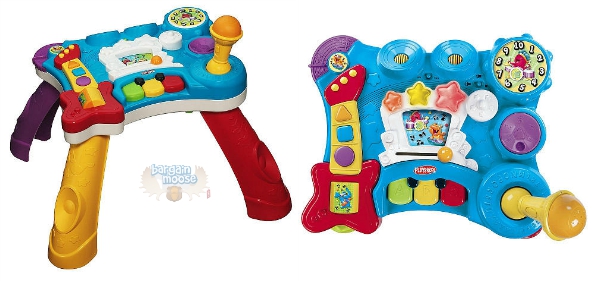 If you are in the market for hot and popular toys for the kids, then check out this Playskool Rocktivity Sit To Stand Music Skool kit. Originally $59.97, this music stand is on sale for just $30. Receive free shipping to your local Canada Post location on any order.
The same music stand currently costs $59.99 at Sears Canada and at Amazon Canada, the Playskool Rocktivity set is sold for $70 by a secondary seller but fulfilled by Amazon. Prices in the USA are like this: $39.98 USD @ Toys R Us.com, $40.05 USD @ Walmart.com, and $40.05 USD @ Amazon.com.
This music stand rocks! While classical music is fine, this music stand transforms popular, current hits into child-appropriate tunes. The stand comes with more than 50 songs, sounds, and activities for your child to enjoy.
There are three separate modes on this device: music, learning, and French. It has been shown that children who learn a second language earlier have more brain elasticity (good thing). I really wish I was raised bilingual!
As for the music, enjoy popular children's songs like "ABC," "I Like to Move It," "On the Floor" and "Twist and Shout". Your child will enjoy dancing to the music as well as playing with the music stand. Through pressing, spinning, and sliding buttons, your child will learn cause and effect as each button triggers something different. The music stand includes a removable microphone as well so your child can sing along.
Now, a lot of toys seem a bit limited to a certain age group. However, this toy grows with your child. It can be played with on the floor or you can add on the legs to the base. This turns the Playskool Rocktivity Sit To Stand Music Skool into a table for toddlers.
The stand requires three AA batteries, which are not included. I suggest buying some before giving this stand to your child. Playskool designed this stand for ages six months to 36 months, but that always depends on the development level of your own child.
At Walmart Canada, you can receive free shipping to your home on $49 or more. However, shipping to your local Canada Post location is free and just as good. I always pick up my packages at my local Canada post as I always miss the deliveries. This table is already is low in stock as 'limited quantities' is showing on Walmart. All my local stores are out of stock as well, thus my only choice is to buy online while it is still available.
(Expiry: Unknown)