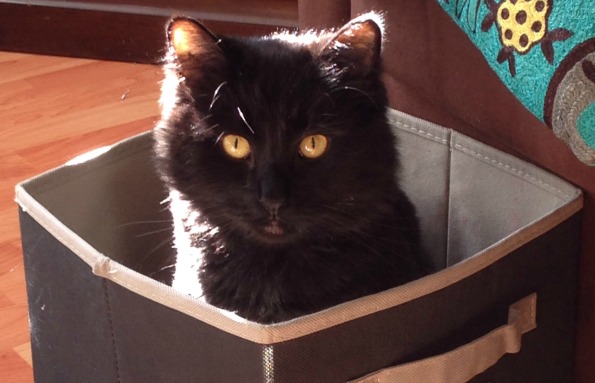 Spend $35 or more on cat and dog food, treats, rawhide, and cat litter to receive a $5 coupon valid on your next in-store purchase of the same items.
Either your $35 purchase can be in-store or it can be online with the 'ship to local store' feature selected. This great feature allows you to browse everything that Petsmart has to offer from the comfort of your own home. You can see what is on sale, and you can stock up on your regular purchases. You never have to worry again about making the trip to your local Petsmart to find your pet's food or your cat's litter out of stock.
This promotion is all about the basics in your pet's life: food and treats (and litter). These are expensive expenditures anyway, so a little kickback like a $5 coupon to use on your next order of food and treats is nice. I will be changing up my boy's food very soon. Not because they do not like their current food, rather because they like it too much and Ghost seriously needs to lose weight.
I am considering the Hill's Science Diet Oral Care Adult Cat Foodas I cannot go on a diet food or his coat really gets rough. However, this would help with his plaque and the larger kibbles might make him eat slower instead of gobbling his food down. I buy in bulk so the 15.5lb bag would cost me $44.99, originally $49.99. If anyone currently uses this food for their cats, then please let me know what you think. I want to get my big boys on a good food.
Good quality food is not cheap, so that bulk bag alone will reach and exceed the minimum required to get my $5 coupon for a future purchase. As I will be purchasing cat food and litter again, I am happy with this offer. In addition, with two large husky male cats, I am a big fan of any pet supply promotions. My boys go through a fair bit of litter and a decent amount of cat food on a regular basis.
Treats are included in this offer so I will be buying my boys Hill's Science Diet Crunchy Creations Cat Treats for $1.99, was $2.99. I have tried many different treats and find my boys appreciate the variety. They have not tried this brand yet.
That picture is of my new cat Gaiman. He has been with us about five weeks now. Gaiman is actually a long-haired beauty but he was a stray that had severe matting issues so they had to shave him. His fur is growing back in nicely.
(Expiry: Unknown)