Petro Canada Printable Canadian Coupons For Free Coffee & Free Choc!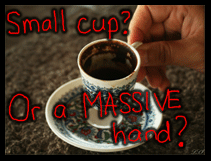 Coffee! Addicted much?
Just print out this free coupon from PetroCanada to claim a free coffee when you buy 1 coffee of any size.
UPDATE - There's also this free printable coupon for Buy 2 Get 1 Free on Mars Chocolate!
You can use it at any of their "javastops" @ Petro-Canada. (Expires 30th June 2009)

You know, there is such a thing as a coffee addiction clinic. I had to check myself in during my university years. They made me go cold turkey on the java, and I had the shakes, I was delirious, I was seeing giant evil coffee cups crawling along the ceiling. Eventually, they weaned me off the disgusting habit, and charged me thousands of dollars for the privilege of doing so. Now, sometimes I get a whiff of coffee brewing as I walk past Starbucks, and I get flashbacks to those mad days and nights of coffee fuelled delirium, where I would sport a pocketful of coffee beans, and rub them on my gums from time to time.
Not.
Thanks Kuzeytac.