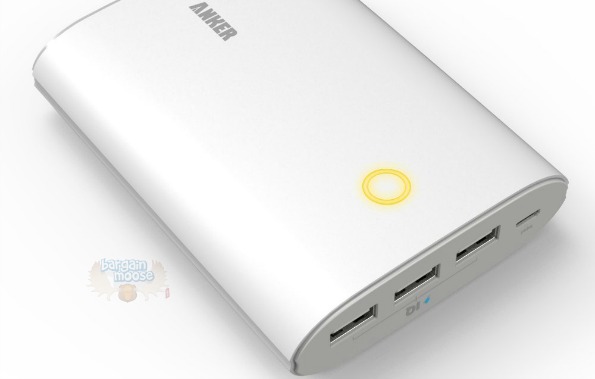 I have mentioned my love for external batteries before as they are absolute lifesavers. Newegg Canada currently has a wicked deal on this Anker 2nd Gen Astro3 12000mAh Power Bank External Battery Charger with PowerIQ Technology. Originally $52.99, the battery is on sale for $37.99. However, if you use Newegg's new coupon code NEWEGG5TH for 10% off, the battery comes down to just $34.19 + $5.99 for shipping.
Now, I know you are eying up that shipping price and wondering if you really have to pay it. There are two ways you can get out of paying shipping and thus get the external battery for cheaper.
If you live near Mississauga Ontario, you can pick up your order at their warehouse.
Sign up for the 30-day free trial of Newegg Premier and receive shipping free.
There you go, you could hypothetically get this battery for $34 and free shipping if you choose one of the above options. If I did not already own two Anker batteries, I would be signing up for that free trial right now and ordering myself this one.
The sale price is only on the white colour as black is still full price. I price compared with Amazon.ca who sells them for $53.99 right now. Even with paying shipping, you are saving $14 on the price of this external battery charger. Honestly, to get 12000mAh for around $40 is incredible. Unlike cheap battery chargers that lose around 35% capacity, Anker batteries have been tested to only lose around 15 - 20% over time.
I have a 13000mAh external battery from Anker and I LOVE it. It is the first thing I pack when I leave on a trip because it is the most vital thing I am bringing. Need a map? GPS? To call 911? This battery pack has your back.
Now, the coupon code above will work on almost anything on the Newegg website. It is rare that we find a coupon code from Newegg without a minimum purchase requirement so please take full advantage of this. You will not see another coupon like it from them for some time. I highly recommend you also buy the Anker 40W 5-Port Family-Sized Desktop USB Charger in either black or white for just $22.49 after coupon and discounts (originally $49.99) plus $5.99 shipping. Amazon Canada sells those for $35.99 right now. I own one and it is very useful.
For this and any future Newegg coupon codes, visit our forum.
(Code expires 20th October 2014)