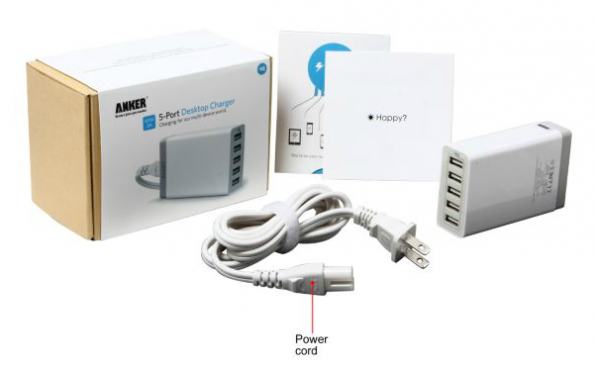 Newegg Canada has the best price on the Anker 40W 5-Port Family-Sized Desktop USB Wall Charger. Regularly this USB to wall charger retails for $49.99, but it is now on sale for $19.99 plus $4.99 shipping. Including shipping, the Anker 40W USB charger comes to $24.98 inclusive.
I buy most my Anker products through Amazon Canada because the price is very good for the quality and design. However, this Anker USB charger currently costs $35.99 at Amazon, so you are much better off buying it at Newegg Canada right now. Even with the shipping charge, Newegg's price is $11 better than Amazon's price.
I bought this exact USB charger for $30 back in September. It is one of my best-spent $30 in a while. Like most households, we own many electronics.  I have an iPhone, a portable speaker that charges via USB, and an Anker external battery. My partner owns a Samsung Galaxy, a Dell Tablet, and has his own Anker external battery as well. Between us, that is six electronics that charge via USB. With this wall charger, we can charge five at a time without taking up two and a half outlets. Outlets tend to be in short supply in the living room (where we charge our stuff) so the Anker 5-port USB charger is amazing.
I cannot recommend this device enough. If you do not own it - buy it ASAP! You will be surprised how much easier this little box makes your life. Instead of having to keep my computer on to charge some of my electronics without the wall adapter - I just plug everything into the Anker USB charger.
Did I mention that this thing is fast? At 40W, it delivers a great power charge no matter how many electronics you have plugged in. Now, some reviewers report that one or two of their USB ports have gone dead. I have tested all of my ports and they are still working at six months into my purchase. If this does happen to you, Anker has a great one-year warranty to protect your device.
I am a huge fan of Anker products. Not only am I enjoying this amazing USB charger, I also love their external batteries, which I have blogged about before. For my dollar, there is nothing better.
(Expiry: Unknown)