NCIX: Up To 50% Off PS3 Accessories + FREE Express Shipping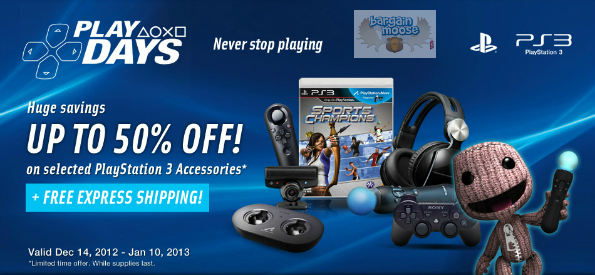 This is the kind of deal I'm here for. Remember all those other deals I told you about before? Remember how awesome I said they were? I was lying. They sucked. NCIX is bringing the deals on PS3 gear.
There are ten items on sale from regular controllers to Move stuff. If you're like me, you're pretty much the only one in the house who ever uses the PS3 for gaming, so an extra controller isn't a priority. It's deals like this that I wait for before picking up extra gear. I don't need a charging stand but at $19.99 (normally $29.99) why not?
This is a good way to get into the Playstation Move scene if you've been holding off until now. It's hard to drop extra money on something like that where on the surface, seems like it may be gimmicky. I personally don't find it gimmicky like Nintendo's and, to a lesser extent, Microsoft's motion gaming offerings, but I know a lot of people that are weary. These sales make it a lot easier to invest in the gear, even if it's something you only occasionally use.
(Expires: 10th January 2013)