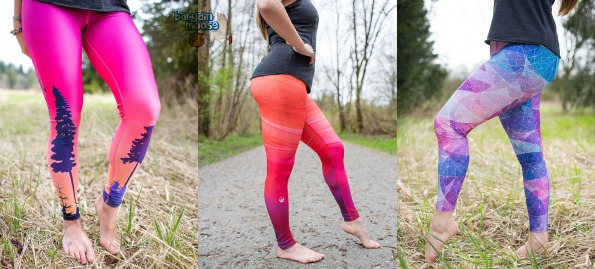 My Inner Fire Canada makes leggings out of recycled water bottles, which is one of the coolest things ever. This Vancouver based company is offering 25% off your order of any of their yoga wear.
Click here to shop @ My Inner Fire Canada now
Coupon Code: GOODLIFE14
Discount: 25% off
Expiry: 31st December 2014
I wear leggings about five out of seven days a week, so this company is pretty much a natural fit for me. I am also very environmentally conscious, so their use of recycled water bottles really impresses my inner tree-hugger.
Inner Fire Canada makes so many beautiful products. Their Infinity scarves are stunning to behold, with the Dark Forest pattern my absolute favourite. The scarf retails for $44.95 but comes down to $33.71 after coupon. The scarf is made of bamboo, polyester and spandex. I really like this graphic because it is somewhat creepy and mystical all at the same time.
They make tops for both men and women as well. This C(OM)-UNITY - Men's / Unisex T-Shirt is one of the designs they carry. The shirt is hand printed with eco-friendly water-based inks. Originally $29.95, the shirt is on sale for $22.46. The shirt itself is an American Apparel base, which means it was ethically made in their USA based factory.
The leggings are the main attraction at My Inner Fire. They are made from 88% recycled polyester from water bottles and 12% spandex. Currently they have a dozen designs to choose from including these Geometrica Leggings (my favourite design). The leggings feature a wide yoga band for comfort as well as gusset and flat-lock seams for both flexibility and a no-chafe fit. Their printing process makes sure that no ink is wasted and that the colour of your leggings will not fade over time. The leggings retail for $79.95, but you can pick up a pair for just $59.96.
I find the size chart on the leggings a bit small. Perhaps it is because these are designed for people who are a bit fitter - hey, it is yoga gear after all. Their size large measures a 33" hip with a 30" waist. As there is 12% spandex in these leggings, I have no doubt I could fit the waist, but my hips are much larger than 33" so I would be concerned about the fit across the hips. I wear Black Milk Leggings in a size large, so I would be curious to try out these leggings in comparison. I would love to be able to go local and they are priced competitively even before the coupon code.
Shipping was $6 to my location when I generated a cart.
For this and any future My Inner Fire coupon codes, check out our forum.