Multi Grain Cheerios & So Good: Save Up To $2.50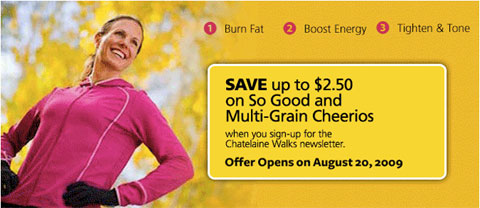 If you sign up to the "Walk off 10 pounds" newsletter on the Chatelaine page, they will email you a few handy free coupons.
(Offer opens 20th August 2009)
You can save up to $2.50 on So Good and Multi-Grain Cheerios. If you buy those products anyway, then just sign up to the newsletter to get your coupon! I've just signed up and I'm waiting to see what I get.
Alrighty $2.50 isn't much, but if you follow the deals on Bargainmoose and save all those cents, the dollars will take care of themselves.