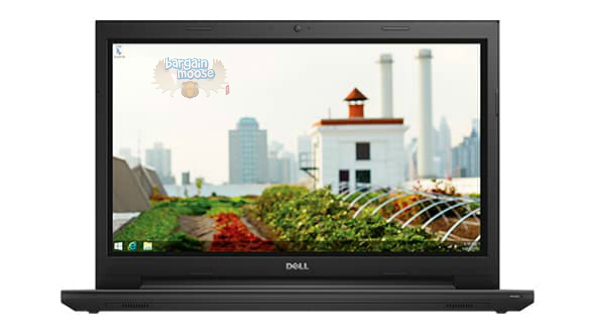 Microsoft Canada has discounted this lovely little Dell Inspiron 15 i3543-2501BLK Signature Edition Laptop from $499 down to $327 with free shipping.
This is a respectable laptop for everyday use. The laptop comes with:
15.6-inch (396.24 mm) HD touchscreen
Intel Core i3-5005U
4GB memory
1TB HDD
In fact, this unit is a bit above your normal 'basic' laptop. You receive a huge 1TB hard drive and the screen is actually a touchscreen, like a tablet screen. I love these little laptop / tablet cross-breeds as you get so used to moving things around with your fingers on a tablet and smart phone only to revert back to a mouse on your desktop. Now, you receive the best of both worlds. One reviewer said:
I received it yesterday. At this price, it is really an amazing machine. Everything works well now and the touch screen works very well. I like it!
This would be an excellent laptop for school, university, and just for playing around with at home. I could see this fulfilling most people's needs for a laptop unless you run a business or work online for a living.
I would like to impart to you the importance if signature edition laptops. Most computers these days come with an enormous amount of bloatware. That is software that manufacturers load on to new computers. This bloatware can be up to 60 or so programs, often higher. Toshiba is one of the worst offenders, with Sony and Lenovo close behind. You cannot just factory restore your computer as they are making OS images that include the bloatware. Essentially, it re-installs when you reinstall the OS.
Bloatware is bad. It can slow down any computer to a snail's pace - even computers with really fast processors. I and a dear friend of mine are learning that on his Lenovo with an i7 processor. Now, Signature Edition Laptops do not have ANY bloatware or third-party trial-ware on them. These are CLEAN computers. Given my very recent experience with bloatware, I do not think I would buy any other computer in the future except for a Microsoft Signature Edition (or an Apple).
I have heard that the warranty is with Microsoft since you are buying the computer from them. However, you can transfer the warranty to Dell at no cost (if you want to).
(Expiry: unknown)