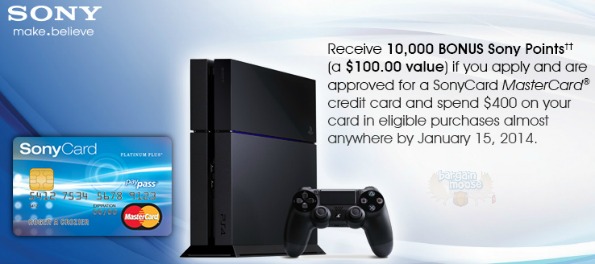 MBNA has a Sony MasterCard promotion which gives you 10,000 points (instead of 2,000) after you spend $400 in eligible purchases by January 15, 2014. That is a $100 value!
There is NO annual fee for this credit card. The Sony Card earning system:
2 points per $1 spent on eligible purchases at SonyStyle.ca and in Sony stores
1 point per $1 spent on all other eligible purchases
10,000 BONUS points after $400 of eligible purchases with your Sony Card
BONUS points on every $1 spent on eligible purchase using your card at SonyStyle.ca and in Sony stores during special bonus point events
Cardholders will also have a chance to win a Sony PlayStation4! It looks like successful applicants will be entered into a PS4 draw.
With the points, you can redeem them for lots of great stuff online at The Sony Store. The 10,000 points can be redeemed for $100 towards any purchase at Sony Canada. I have a Sony camera that I would love to get a new lens for and maybe an external flash. I know that $100 towards a new lens would go a good way. This offer is only available to new Sony Cardcredit card holders, or existing cardholders who qualify for an additional account.
Now, I know tons of people are against credit cards but I think they have their use. For one, it is nearly impossible to shop online these days without a credit card. Not every company accepts debit or Paypal. Also, if you always pay off your credit card (no interest) and get a no-fee credit card you can actually make money off of your credit card.
(Expiry: 20th December 2013)