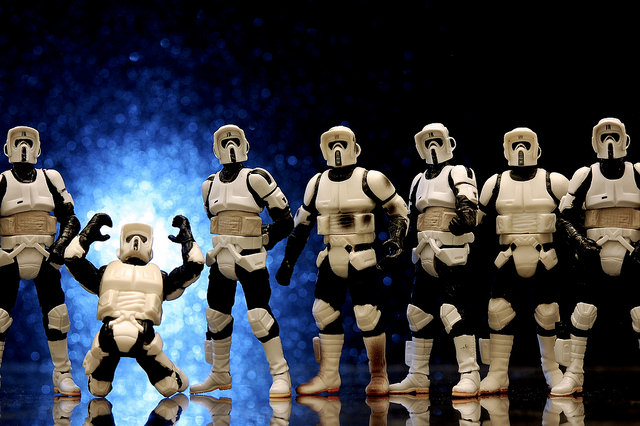 May the 4th be with you today. You don't have to be a fan of Star Wars to celebrate today, and you definitely don't have to be a fan to get in on the deals that come along with today being May the 4th. I've compiled a sweet little list of some stores having Star Wars and May the 4th deals and you just might want to take a look.
Lets start with Chapters Indigo. They've got a few Star Wars items on sale, like this Star Wars Darth Vader roto bust bank. Cute for your dresser, plus functional for saving money, this item is on sale for $15, from $21.54. Amazon sells it too, for $21.48. There are also a couple of books on sale as well that you might want to take a look at.
Amazon is also cashing in on May the 4th day. They've got a ton of items on sale that look so fun and perfect for the Star Wars loving Dad on your Father's Day list. One item of note may be this C3PO watch with minifigurethat is regularly $27.99 and now $14.99. Truth be told, C3PO is my favourite character, so I would love this watch. My kids have Star Wars watches like these and they love them. They are also very durable (believe me, I know!).
ThinkGeek is your Star Wars store. They've got Star Wars items and this May the 4th, they've got a free collectible pin with your Star Wars orders over $20 and the promo code TENPACES. Also, until the end of today, they've also got all Star Wars items 20% off. Note that they ship from the U.S.
What do sex toys and Star Wars have in common? Not much, just that you can use the coupon code MAY4 to get 20% off your order at Pink Cherry. You're welcome.
Shop for your Lovable Labels tonight and get 50% off sticker labels and slimline labels in honour of May the 4th. This deal ends at 5am tomorrow morning, so if you up late with a crying baby tonight, now you've got something to do.
Send a free Hallmark e-card to your beloved wookie today. Then enter coupon codeMAY4 to get 20% off subscriptions. There are also more options to send more Star Wars e-cards for free.
Shop the U.S. Disney Store to get 30% off your Star Wars items like really cool shirts, lunch totes and toys.
I think I've got you covered with all sorts of unique ideas on how to celebrate May the 4th today. Who is your favourite Star Wars character?
Photo credit: JD Hancock