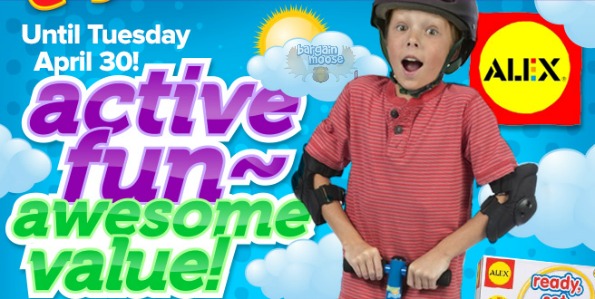 Mastermind Toys Canada is having a sale on Alex Pogo sticks. Take $20 off the large stick, regularly $50 and $15 off the small, regularly $35.
What kid of any age does not like jumping around? Pogo Sticks by Alex are a timeless classic, brought back to bring you and your kids joy as you remember the good old days of pogo-ing around. With a padded frame, wide rubber foot, soft grip handles, non-slip footrest and encased metal spring for safety, this safe and extremely fun toy will get out all of their energy and more! It is recommended that a helmet and protective pads be worn, just like if they were roller blading, because there is always the chance of falling, especially at the beginning when they are learning how to pogo.
The large is for older kids, age 9 and up, is 43" long, with a weight capacity of 88-154 lbs, meaning even adults could technically try it. You know you want to. $29.95
The small is for smaller kids, age 6 and up, weighing from 44-99 lbs. In my family, we could probably get away with the small until my kids are in their late teens! With the small, you can bounce as high as 61cm! $19.95
Shipping is free on orders of $60 or more.
(Expiry: 30th April 2013)