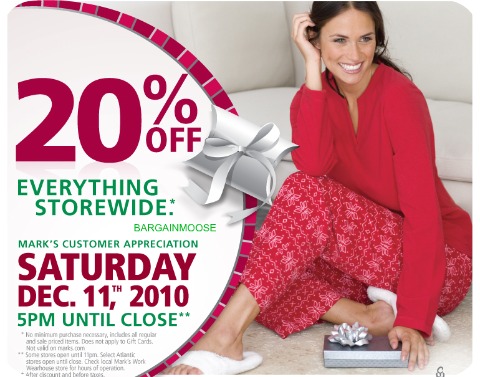 Mark's Work Wearhouse is having a customer appreciation sale on Saturday, December 11, 2010. From 5pm till closing you can get 20% off everything in store, including sale items, not including gift cards.
I have been to one of these events and it was nice. I think the quality of Mark's has been improving the last few years, as well as the styles. I couldn't resist posting this again, a letter Anna got from Mooser Meg about Mark's:
I have wrecked everything from brand name dresses to sportswear by washing it. I've turned my boyfriend's dress shirts bright pink, shrunk an irreplaceable bridesmaid gown a day before the wedding, and ripped sleeves off vintage clothing. So I was sceptical about Mark's promise that their Perfectly Pressed French Cuff Shirts were easy to care for, wrinkle free, and super easy to wash.

However, after wearing both shirts several times, running them through the washer repeatedly, and accidentally leaving one of them tied to something on my neighbour's roof rack, I can honestly say these shirts are now my favourites. They're comfortable, stylish, and yes… super easy to care for. The fabric is not prone to pilling, and doesn't become a lint magnet when I inevitably forget to put dryer sheets in the dryer. And as a bonus, it's super soft, lightly stretchy, and it looks a lot pricier than it is.

Good job, Marks. I will definitely be stocking up on these.
Thanks again Meg!