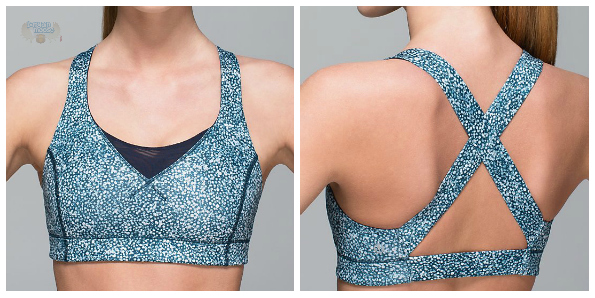 Lululemon Canada has discounted a bunch of athletic bras. One of those styles is the In A Flash Bra II, which is on sale from $52 down to $39 with free shipping.
I chose this bra for a couple of reasons. First, the sports bra comes in sizes two through 12 with all six sizes still available for purchase. When online shopping, there is nothing more aggravating than finding something you like that is already sold out in your size.
This bra also looks beautiful and has fairly positive ratings. The negative ratings tended to be a result of larger busted woman being unable to wear the top due to boob overflow. However, many women (up to a DDD cup) found success with this athletic bra, so you may as well. Do note that this is a medium coverage and medium support bra. The heavier your chest, the lower the support level really. One reviewer said:
Fit on this very similar to the all sport bra. I love the mesh in front which breaths while keeping you covered and helps with sweaty boob problem. I found it very supportive. For reference 5'7" 32D/DD went with my usual size 6.
This athletic top is designed for the gym and for running. Arguably, it should also be good for yoga as well. This is an open-back bra with criss-cross straps for added support. This type of strap design keeps the straps closer to your core and prevents the dreaded 'shoulder strap slip' that often happens with bras. The straps are also wide to increase comfort. They sit below your shoulder blades instead of on top of them.
The athletic bra is made of sweat wicking, four-way stretch Luxtreme fabric that is breathable. The added LYCRA ensures that the bra retains its shape despite frequent wear. Mesh is strategically placed to keep you cool.
The bra is designed with pockets for removable cups. I am not sure if cups come with the bra (doubt it), but you can just walk into your local Lululemon and request a pair. I owned a Lululemon sport's top once and they gave me the cups free-of-charge in store. You could also try emailing or commenting with your order asking for a pair and specifying what size you need.
There are many others bras for sale in the 'We Made Too Much' section. Personally, I wanted to buy the Ta Ta Tamer II but they are out of my size.
(Expiry: Unknown)