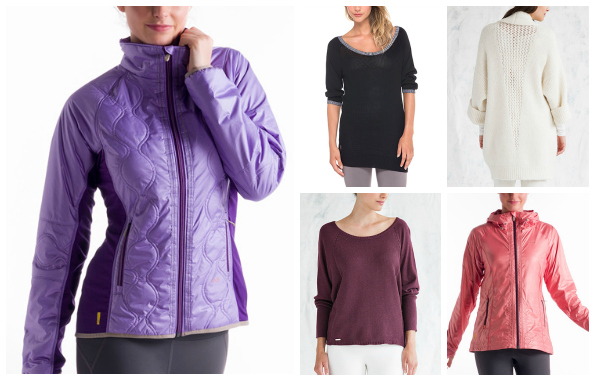 Lole Canada is one of Canada's premier women's fitness attire companies. They just recently loaded their sale section FULL of tops, bottoms, coats, athletic bras, swimsuits, and accessories - all for 50% off with free shipping (no minimum).
You may think the clearance section would be full of summer clothing, and you would be mistaken. There are plenty of cold weather options including tunics, hoodies, sweaters, and jackets. My favourite is this gorgeous Glee Jacket that was $180 and is now just $90. This lightweight jacket is made with Thermaglow Lite insulation to keep you warm without the bulk. It has a gorgeous quilted design and a stand-up collar to keep the cold air off your neck.
I have this $100 cut off in my mind for jackets: I want to spend under that amount and this Glee jacket qualifies now that it is on sale. As a secondary jacket, I would pick up the affordable Cheer Jacketthat was $170 and is now $85.
If you are looking for the ultimate luxury piece this winter, then pick up the Varija Cardigan is a gorgeous long sweater made from a wool, alpaca, nylon, and silk blend. Nylon gives it stretch, silk makes it buttery soft, and both the wool and alpaca are amazingly warm. The fabric also breathes beautifully. Originally $300, this cardigan is now $150.
My budget is more around the $50 mark give or take a few dollars. This Mable Tunic that was $90 and is now $45 would be on my wish list, especially as it comes in some sweet colours. As the tunic style is long, I could easily pair it with my winter tights. If hoodies are more your thing, then try the Novel Pullover Hoodie that was $100 and is now $50.
I own some Lole clothing and the quality is extraordinary. Frankly, it is a piece I would expect to have for years and years as I could not see actually wearing out the material. Come autumn, I just want layering pieces in my wardrobe. Items I can stack on top of each other, adding and removing to suit the weather. I think this Esha One Piece is my favourite style of the entire sale. Originally $100, it is now on sale for $50. I imagine this as the perfect base layer on which to throw on leggings and a sweater. The Esha bodysuit has a draped-top and drop-armhole design that makes it light and roomy.
(Expiry: Unknown)