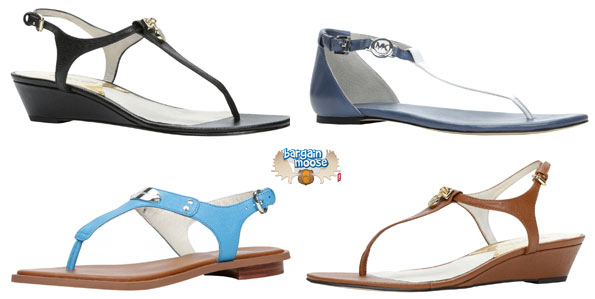 It's no secret that Michael Kors merchandise isn't always the most budget-friendly but if you're a fan of this iconic brand, then you're going to love that you can get a variety of four sandals at a reduced price of $69.99 (reg. $128), though the only difference between two of them lies within their colour.
Here are all of the ones you can save close to 50% on:
Even their reduced price may seem like a lot to pay for a strappy pair of sandals but in all actuality, these sandals are more likely to outlast any cheap pair of sandals you can get anywhere else. Why? Because they're made of leather. Unlike the synthetic material that the vast majority of other cheaper sandals are made of, leather products tend to last far longer and have a much nicer overall appearance as well. Plus, since most synthetically-made sandals may be had for the same price as these Michael Kors ones, it definitely makes it more worth it to get the real deal, then a piece plastic.
Out of all of the discounted Michael Kors sandals, I prefer the Yorker in cognac as they offer a more natural look. With a small wedge heel and a hamilton thong look, I would love to wear these sandals with short shorts, a tank and a Michael Kors bag to match -- it's too bad that Little Burgundy doesn't carry those alongside the sandals!
The light blue Reichow ones are just as fabulous though, especially because of their colour, which is perfect for summer. Though I must admit that I much prefer the Michael Kors tag on the Yorker sandals because it's much more recognizable than the silver-plated tag on these ones.
Since shipping is only free on orders over $75 and you're to be missing that extra $5.01, then you could either grab a pair of Michael Kors sandals in a different style but for the same price or you can also check out the clearance section for low prices on accessories such as the bohemian-looking pecanty hair accessory on sale for $9.98 (reg. $25). It's essentially a combination of feathers that clip into the hair. I actually have similar hair clip and it's definitely one of my favourites for the unique look it provides.