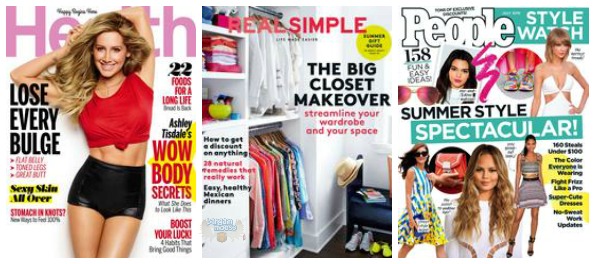 Kobo Books Canada is selling magazine subscriptions from just $5! This is part of their summer blowout sale on now.
Some of these $5 subscriptions cost more for a single issue than for a yearly subscription with this deal! For example, this subscription of Cooking Light for an entire year costs just $5 whereas a single issue would cost you $6.33! You are saving 93% on the cover price with an annual subscription.
I really like fashion, but I never have time to keep track of all the great fashion magazines. In fact, I rarely read magazines unless I am at the doctor's office or dentist. I see them as a bit of a waist of paper, so I am a huge fan of digital copies. sure, it is not the same as a physical copy but it saves many trees and tons of ink. People StyleWatch, InStyle, and Real Simple are all great magazines with articles on fashion (and managing your fashion). Better yet, a year's subscription is just $5.
When i think of Sports Illustrated, I think of the swimsuit edition: who doesn't? Therefore, it surprised me that Sports Illustrated has a kid's magazine. If your child is into soccer, football, swimming, hockey, and more, then why not pick up a subscription to Sports Illustrated Kids for $5. The magazine includes sports trivia, games, contests, and profiles of the greatest names in sports today.
There are many other subscriptions to choose from in this sale. If I were picking up a subscription, then I would purchase either Real Simple (linked above) or Health. It is about this time that I lose all hope in my exercise and eating better regime. A magazine like this gives new ideas for getting healthy. At this point in the year, anything would be helpful!
Now, you could get one of these subscriptions for free. As Anna mentioned yesterday, new Kobo customers will receive a $5 credit when they sign up for an account. Your credit should appear within 30 minutes of signing up for your new account. Then, you can redeem that $5 discount for a yearly magazine subscription of your choice. As the free credit is $5 and you can pick up a yearly magazine subscription for only $5 - you could technically get your subscription for free.
(Expiry: 14th June 2015)