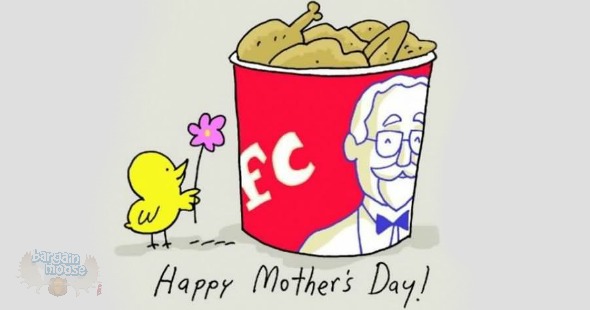 Don't let mom cook this Sunday. This Mother's Day (May 10) set your stomach on the Mother's Day Feast at KFC Canada. While fried chicken isn't my preferred food, this is a pretty good deal. The Mother's Day Feast from KFC comes with a $10 KFC Voucher as well as a $20 TryThat.ca voucher. That alone makes the $38 deal worth it. So not only are you surprising mom with a free meal, but you're also gifting her with a $20 spa voucher for TryThat.ca.
Why not thank mom this year with chicken, fries and more delicious food? The Mother's Day Feast from KFC is a great way to say thank you if your mom loved fried chicken. For just $37.99 you will get enough food to feed the entire family, as well as two other vouchers to give mom as a gift. The food included in the KFC Mother's Day Feast is as follows:
14 pieces of Original Recipe chicken
large fries
medium gravy
2 salads
6 pieces of Buttery Bread
6 cookies
This feast is designed to feed 4-6 people, and it does. If you plan on bringing your kids to mom's house this weekend to celebrate, then maybe grab this feast on your way. My grandma loves Kentucky Fried, so I might surprise her with this meal this weekend. She lives with my uncle and they eat a lot of KFC. They also have four kids so a meal this size normally feeds their entire family with some leftovers. My favourite part has to be the coleslaw or macaroni salad though. I am not a huge fan of greasy fried foods. What about you?
While the Mother's Day feast is only a limited time offer, no expiry date has been listed. There are, however, expiry dates on the vouchers that are included with this Mother's Day feast. The KFC $10 Gift Voucher can be redeemed between June 16th and 21st, 2015. The TryThat.ca Spa Voucher expires on July 31st, 2015. This spa voucher is a great way for mom to go get that french pedicure done, finally. In Ontario alone there are over 600 spas to choose from that will accept this TryThat.ca gift voucher. I would probably go to Dove Spa in Oakville. The thought of getting a manicure or pedicure has me excited already.
(Expiry: Unknown)