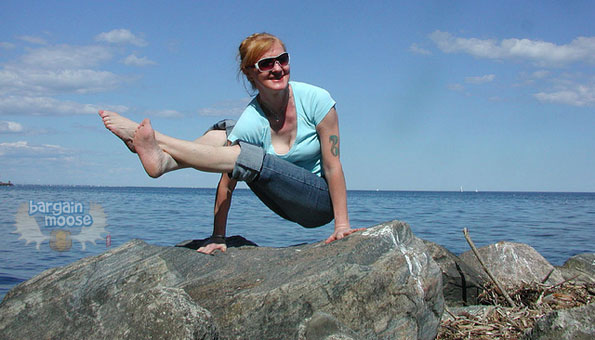 Don't you just wish you could do an arm balance like the one on the picture above? Put the odds in your favour by trying collagen! In fact, we have secured an exclusive freebie for you at KE321 for just that. Until the end of the month, with any purchase at KE321 Canada, you will also receive a free Mitsuwa collagen gift pack. Just make sure to enter the code below at checkout.
Click here to shop @ KE321.ca now
CouponCode: MOOSE
Discount: free Mitsuwa collagen pack with any purchase
Expires: 31st October 2014
It seems that all of the best health and beauty tricks originate in Asian countries and Asian products aren't as readily available in-stores. Luckily, online stores like KE321 make it easier to shop for beauty and health merchandise from Asia. In general, all of KE321's merchandise is divided into three categories: beauty, health and energy. Within these, the cheapest product I found is the Mitsuwa Reishi hand cream for $19 and you will be happy to know that the exclusive freebie will still be added at checkout as there is no required minimum purchase to redeem it.
If this is the first you hear of KE321, then you might be tempted to get the cheapest thing in an effort to benefit from the freebie. However, it's actually much more worthwhile if you shop for over $80 because your order will then qualify for free shipping and you will avoid the $15 shipping fee that applies to orders that don't meet that threshold.
Apart for Mitsuwa Collagen Pure at $47.50, all of the other products available for purchase are priced at $90 or more, but keep in mind that the bigger the bundle you get, the more you will save. Take for instance the Mitsuwa collagen pure 2-box pack for $190. Each box usually retails for $90 but this bundle also comes with 2 free Mitsuwa Reishi hand creams.
Speaking of which, Mitsuwa collagen pure is also what you will be getting for free with the Bargainmoose exclusive KE321 coupon code. The gift pack includes five 2g satchels of Mitsuwa collagen pure, which is a dietary supplement designed to:
Preserve bone strength
Alleviate joint pain
Repair & restore skin elasticity
It's also super easy to take it as you can either dissolve it in water, any drink or even food. According to the direction, you can also take up to 2 packets per day.
Moosers, have you ever tried a collagen dietary supplement? What did you think?
(Image Credit: Sarah Siblik)