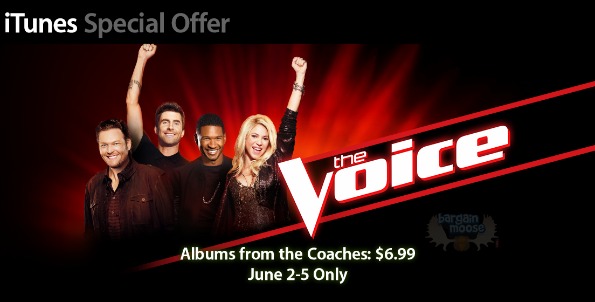 iTunes Canada is having a special sale on albums from the TV show 'The Voice' coaches. Get albums from Shakira, Usher, Blake Shelton, and Adam Levine for only $6.99 each.
Click here to shop @ iTunes.apple.com now
Here are the albums on sale:
You can also pick up some The Voice singles from the contestants they have had on previous seasons and current season four contestants. Most of the singles cost $1.29, so not as great a deal as when these full albums go on sale.
I have really not watched The Voice. I do love the blind voice auditioning though - I think that is brilliant. I love it because I think so much of success is not based on talent but rather good looks. I was recently reminded of that when watching So You Think You Can Dance. Mary kept on telling girls how beautiful they were and how they looked so much like 'So You Think You Can Dance.' All I was thinking was "who CARES if they look like the Virgin Mary or the Hunchback? It only matters if they can dance!" That is what I like about The Voice: the first thing they care about is talent.
(Expiry: 5th June 2013)