InkyDeals.com: Over $5000 Worth Of Digital Assets For $59 + 40% Off With Coupon Code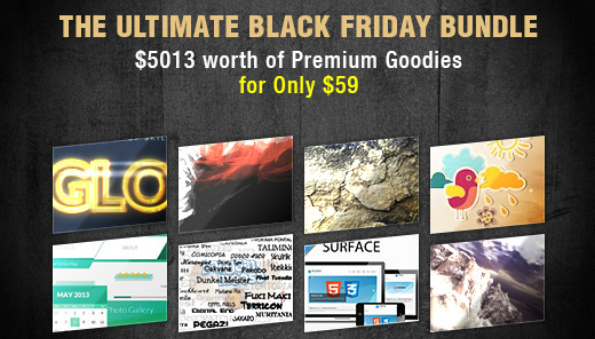 Digital artists, font nuts and web designers can celebrate this Black Friday with InkyDeals!
Click here to get tons of digital goodies @ InkyDeals.com now
Coupon Code: BLACKFRIDAY
Discount: 40% off
Expiry: 7th December 2013
I'm not going to say much here just because we have a real life, honest to goodness artist to talk about this stuff. She is going to break down the product for you, but I'll lay out the deal. This pack gives you 14GB of goodies that, if they were to retail individually, would be worth $5013. You get them for $59 but if you use that coupon code, they are only $35.40.
On more thing before I hand this post over to the Illustrious Jess Lingley, the deal shows $29 as the price. That is a different bundle. You need to make sure you choose the "Black Friday Bundle" option abover the big orange button to get this bundle. You could also get the $29 one; Whatever you want.
The Ultimate Black Friday Bundle comes with a ton of items to give your web design or digital art an extra boost. For example, you get 60 Photoshop brush sets. The default brushes that come with Photoshop are okay for basic projects, but you get some really cool brushes with this bundle, including brushes that mimic paint strokes, splatters, scratches and intricate stencils. On their own they might seem simple, but these kinds of brushes are very useful for spicing up a background in an illustration, or for using in a website template design. Additionally, these brushes are huge (over 2000 by 2000 pixels), so you won't have to worry about them looking pixelated on your high-def Photoshop drawing.

If the brushes aren't big enough for you, this package also comes with 162 vector sets for Illustrator. Vectors can be resized pretty much infinitely, making them useful for anything from a brochure design to a billboard. These sets come with all kinds of bits and bobs to enhance your vector project, from abstract swirls, to borders, to modern clip art, to tags and even fancy fonts. A lot of the typical clip art found in Photoshop and Illustrator has been used so much that it becomes cliche and looks silly, so having fancier graphics to use with your design projects will give them an edge.

For someone looking to design a blog, website, or a business from scratch, this package would be a huge time saver. On top of the brushes and vectors, you also get textures, fonts, Wordpress templates and loads more! These graphics are available to you through an extended license, meaning you can use them in an unlimited number of personal or business/commercial projects (providing you don't simply give away or re-sell the graphics by themselves).
(Black Friday Bundle Expires: 7th December 2013, 8:00AM ET)