The Intex Inflatabull is on Sale for $59.99 @ Cabela's!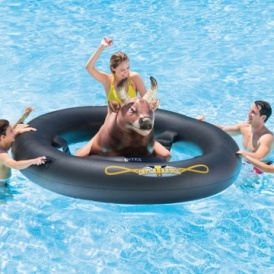 Remember the Intex Inflatabull? We first showed it to you last year, and it's back in stock for summer – and it's on sale!
While quantities last, Cabela's Canada has it for $59.99, down from $79.99!
If you've ever seen a mechanical bull and thought "how hard can it be?" but then chickened out at the last minute, this might be exactly what you need to add to your next beach party.
Instead of a motorized engine, this inflatable is people-powered. Just have your friends grab hold of the handles and start shaking!
And you don't need to worry about falling and hitting those hard mats or the bull itself, because you'll just land in the water!
It has three air chambers and measures 94" x 77" x 31-1/2" (so that's 238.7 cm x 195.5 cm x 80 cm). Shipping is free on orders over $99 when you use the code 99SPRING at checkout. The May 16, 2018 free shipping promo code (EARLYBIRD) has expired.