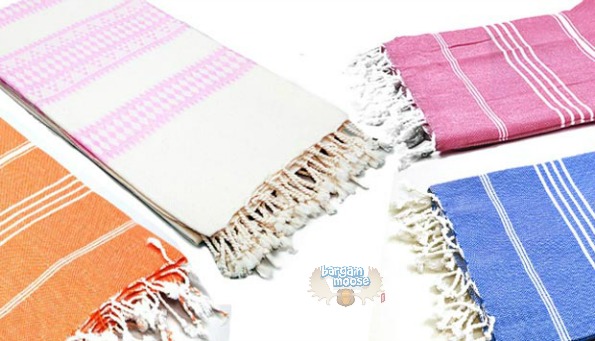 Homesav Canada has some very nice turkish textiles towels on sale. Save up to 45% off the regular price until August 15th 2012 and free shipping available with most items.
At first these struck me as a little odd, but after reading that they are made from turkish cotton and manufactured on ancient hand looms, I had to see more. Apparently these actually get softer and more absorbent with every wash.
I did like the look of this Stripy, Rubytowel that was $99 retail and is now $54. Now at first I thought this looked more like a decorative throw, but it serves a few purposes. It is something that would decorate a chair or couch or even a bathroom, but would make a great functional towel.
I also liked the colour of this Antiochia Pestemal Melon that was $81 retail and is now $49. Basically, the fabric and care of these towels is the same for all of them, but the colours and patterns are unique.
A great looking towel to hang in the bathroom has always been a challenge for me to find. Everywhere you go, people seem to stick with the traditional, colour-coordinated, large fluffy towels. I like things a little more unique and not too coordinated. I also love a good conversation piece and these towels fit in quite nicely.
Shipping: Free with any order over $100, otherwise see schedule and items will arrive 3 to 4 weeks after ordered.
(Expiry: 15th August 2012)