Garage Canada: Free Shipping No Minimum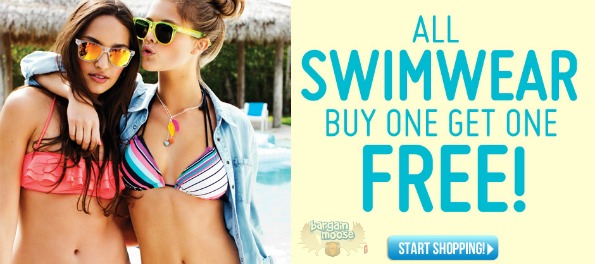 Wow, Garage Canada is totally shocking and amazing me right now. They are offering free shipping on all orders through Monday. Not only that, they have some bloody awesome sales on right now!
So on top of getting free shipping you also can take advantage of these way too sweet deals:
Like... hello! That is a whole load of sweet deals that will save you a TON of money!
For example, I could get this Striped Triangle Monokini for $36.90 and get this Striped Bandeau Monokini for free - worth $36.90! This cute Floral Ruffle Dress regularly costs $32.90, but after discount it comes down to only $23.03. This Midnight Tint Flirty Jean Short is $32.90 so if I bought the Midnight Tint Flirty Jean Short - light with it, I would only pay $14.95 for it.
Also! You can combine deals with a coupon code! We have an exclusive Garage Promotional Code for $10 off $75, use BARGAINMOOSE10.
Three great sales, a $10 off $75 coupon, and free shipping! What a day to shop at Garage!
Free shipping expiry: 28th, May 2012