Frozen "Perfect Day" Twin/Full Comforter $59.99 at Bed Bath & Beyond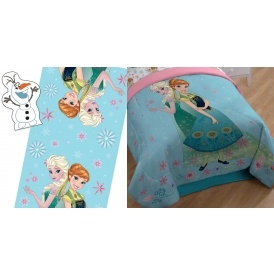 If you have a little Elsa or Anna of your own, you may have been keeping an eye on this set at Bed Bath & Beyond, like I have! I'm so excited that it's finally on sale! It's down to $59.99 from $89.99!
Of course I was also told, that we needed to have the matching Disney® "Frozen" Perfect Day Bath Towel with Wash Mitt Set, so that my darling's bathroom will match her room! Lucky for us, it's on sale for $16.99, down from $24.99, which means, we just sneak by the $75 Free Delivery requirement!