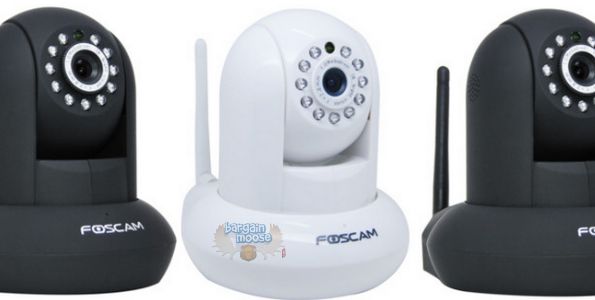 Here is a handy little camera to use for security or as a baby monitor. Check out the Foscam FI9821P Wireless Security Camera. This handy little plug and play camera was $160 and is on sale for $104.99. Use our coupon codeMOOSE40OFF100JULY and receive an extra $40 off your purchase! That brings your total to $64.99. Shop.ca also offers completely free shipping with no minimum.
Whether you want to keep an eye on your back door or just want to stream your baby monitor through your mobile device, this sleek Foscam wireless security camera can save the day. This camera is a plug and play design making it a simple process to tap into your home network. You can choose between a black and a white design to blend with your home décor.
With this camera, you will be able to pan and tilt, allowing you to get a better look when something looks fishy. If you are using this as a baby monitor, this is handy when your kid decides to climb out of the crib or is in a spunky mood. You can stream this camera feed through any iOS or Android device. I like the idea of being able to peek back at my house when I am not at home or on vacay. There is an SD card slot so you can save your videos should you want to save proof of an incident.
Shop.ca's sale price seems only a little bit cheaper than some of the other retailers with this camera, but when you add the coupon code it becomes a sweet deal. Over at Foscam Canada, this camera sells for $114.99. You can find this camera for $99.99 at Amazon.ca. Newegg.ca also sells this camera for $115.99.
I found some reviews over on Newegg.ca Here are some thoughts from a user who is using this camera specifically as a baby monitor.
Perfect for use as a video baby monitor. The 720p high definition video looks great when streamed to our phones and iPads. It can send and receive sound too. The night vision is great. And it runs through your home network. Switching to/from night vision makes a loud clicking sound, so I mostly just leave it in night vision to monitor my baby.

Grab this handy little camera now while the price is excellent. That coupon makes it cheaper than most of the video baby monitors. If you already have some type of mobile device this is a cheaper alternative to a monitor that can then later be used as a security camera when the kid is bigger. I wish I had thought of using a security camera as a baby monitor. My baby monitor is collecting dust right now since my kid is out of the toddler stage.
(Expiry: Unknown)