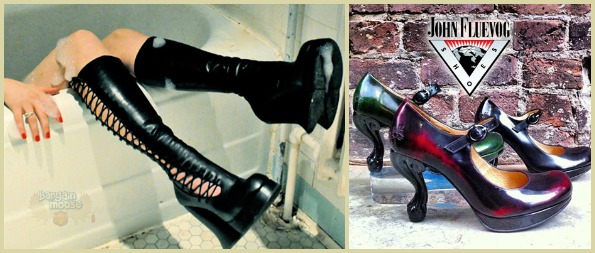 Free shipping with no minimum is my favourite deal from Fluevog. It allows me to raid their sale section without having to add on (mentally) the cost of shipping to each pair of shoes. Fluevog shipping is $16 for the first item or $10 per item for two or more items, thus you save $16 at minimum and potentially much more.
I have a confession to make - I bought a pair of Fluevog shoes this month. I was visiting Vancouver, the home of two Fluevog stores, while I was staying all of three blocks away from the second store. I HAD to pop by. After trying on around ten pairs of shoes, I fell in love with the Hopes Promise for $329. It was one of those angels start to sing moments! The shoe fit like a glove and feels amazing to walk in! It was also the perfect short heel for running errands. I purchased the black shoes, but I really want the blue/white pair as well.
For those of us on a budget (my wallet is now empty), the sale section is the place to be. The Wearever Kiitos shoes are my top pick from the sale. These gorgeous black shoes with a little side accenting were $299 and are now on sale for $199. These shoes are designed to take you from morning to evening without the slightest foot ache! Plenty of sizes are still available.
Next, I would like to mention the Hopefuls Vow. When I was in the Fluevog store, a woman tried on the same shoes I bought and then tried on the Vow - and bought the Vow instead. She liked the colour combination - a bit more funky - and the price was more palatable. Originally $329, these shoes are on sale for $199.
I seem to be on a real kick for $200 shoes. My next choice is the Kitschy Kitschy Boom Boom Liz. Two colours are on sale: the Tomato & Teal and the Pink & Yellow. I like the pink and yellow combination the best. Originally $309, these shoes are now on sale for $199. They fit a little short but are very generous on the width! I need wide shoes so these are on my bucket list.
Fluevog is the only brand of shoes I buy for everyday wear. I own like six pairs of their shoes now - and love every one of them. I highly recommend the brand for durability and style.
(Expiry: 29th March 2015)