My family loves eating burgers.  It is probably our favourite summer time treat, and we love exploring new gourmet burger restaurants like Five Guys Burgers and Fries and The Works.  Although the burgers there are to die for, they are extremely expensive.  I don't like spending $15 on a hamburger that I can make at home for a fraction of the cost.  What are some great home-made options for my gourmet burger love?

We love to host family parties, and I love this idea of a burger bar.  Why order out when you can pre-make all of your burgers and toppings and ask your family to join in on the fun.  Heart Tree Home walks you through the steps to take to plan an amazing burger bar party.  I think it's a fantastic idea for a for a fun and easy family dinner.

We love to make our own homemade burgers when we have a barbeque.  This is another fantastic way to save money, as the burgers you purchase at the grocery store are pretty expensive.  They usually come with eight burgers in a package, and they can cost up to $10 per box.  Make your own by purchasing any type of ground meat (we like to use a combination of turkey and beef), and mix in various add-ins.  Check out these super easy burgers from Fabulessly Frugal which only have four ingredients.

For a healthier option how about this fantastic-looking Lentil burger?  Lentils are loaded with healthy vitamins and minerals and are a vegan option for those of you who prefer to eat veggies and fruits instead of meat.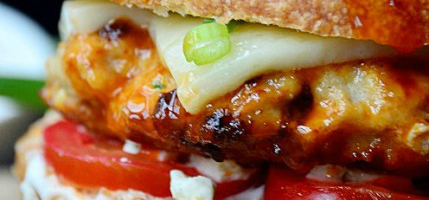 Chicken burgers are usually a healthier option than any other meat.  Chicken is so easy to spice up with different sauces, flavourings and toppings.  Try this Buffalo Chicken Burger from Will Cook For Smiles.  It's dressed with spring onions, fresh tomatoes and a delicious homemade ranch dressing.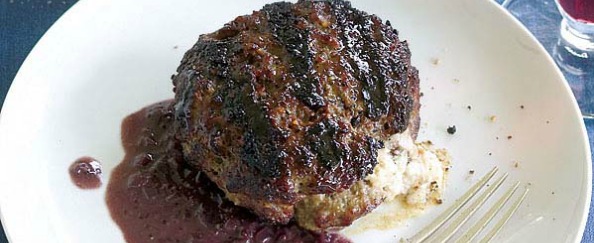 For something a bit more decadent, how about trying to make a blue cheese stuffed burger?  This recipe is so easy and consists of just a few ingredients: ground beef, worcestershire sauce, s+p and blue cheese.  Easy peasy and so delicious looking!  Check out the recipe at Fine Cooking.  (Photo credit: Robyn Lee)
Bargainmoosers, I'd love to hear about your favourite burger in the comments,  please share!
(Banner photo credit: Shutter Ferret)