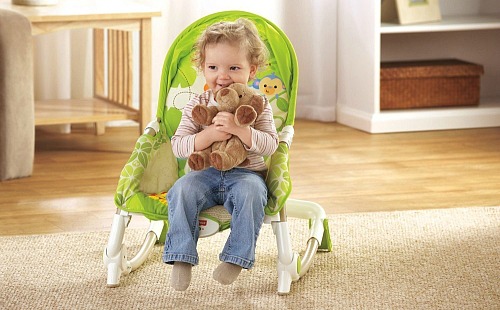 Babies love to be rocked to sleep, but sometimes we need our arms free to do other things. Give yourself a bit of a break while keeping your little one entertained with this adorable Fisher Price Newborn To Toddler Portable Rocker, which happens to be on sale for a great price. This rocker was originally priced at $74.99 but you can snag it right now for just $36.87, plus you will receive a $10 discount on shipping.
The Fisher Price Newborn To Toddler Portable Rocker is now the lowest price you will find. Toys R Us Canada has slashed the price in half basically, and instead of paying $74.99 you will pay just $36.87. Tht is the best price around for this convenient and high quality rocker. How could you say no? Here is a quick look at what other Canadian retailers are selling this Fisher Price Newborn to Toddler Portable Rocker for:
$79.99 @ Sears.ca
$54.97 @ Walmart.ca
So out of 546 ratings on the Toys R Us Canada website this item still holds a strong 4.5 star rating. I had the same rocker for my son, but in a blue colour. I can stand by this product for sure, it was definitely a life saver more than once. When my son was sick and congested at about six months old, this really was the only way I could get him to get rest or sleep. He also used it to watch his favourite cartoon as an infant (Toopy and Binoo of course). It transforms to be suitable for quite a while, from newborn through to the toddler stages. If my son wasn't on the larger percentile I am sure he would still be using this. The Fisher Price Newborn to Toddler Portable rocker also vibrates and plays music, whatever your little one needs for comfort. That is so important, right? Honestly these rockers last forever. Once you are done with it, you will be able to hand it down to a friend for them to use with their little one too. Mine is being used for the third child already and is still in marvelous condition.
Right now Toys R Us Canada has $10 off shipping costs, so you will see your shipping total once you add this item to your ToysRUs.ca shopping cart. Free in-store pickup is not available on this item, but my shipping was only estimated at $11.55 before the discount was applied, so essentially I pay next to nothing after the $10 is taken off. I really can't complain about a $1.55 shipping charge, can I?
(Expiry: Unknown)