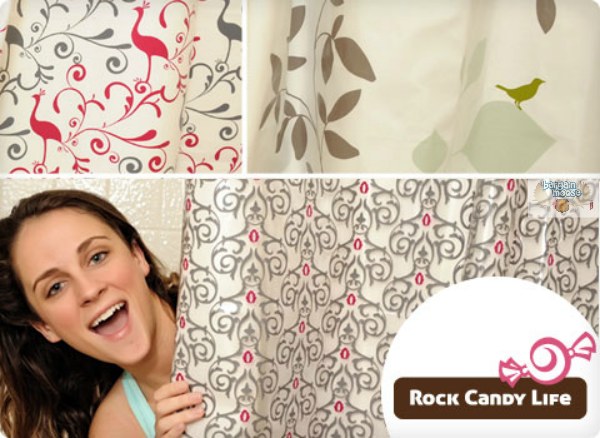 EthicalDeal has a fabulous offer on for Canada - nationwide! Get 52% off a eco-friendly, non-toxic, Rock Candy Life designer shower curtain ($25 value). Yours for only $12 (+ tax + $5 shipping).
Depending on which city you choose it may be the side deal (like in Vancouver) or the main deal (like in Edmonton). For simplicity's sake just go to 'Edmonton' to find the deal if you have any trouble.
You can choose from 3 snazzy patterns: Moroccan Luxe (bottom), Royal Luxe (top - left) or Whimsical Birds (top - right).
You can redeem your voucher online here starting the 23rd of August, 2011.
Highlights:
100% recyclable, biodegradable, PVC and chlorine free eco-vinyl
Never molds
Easy to clean - wipe down with a damp cloth as needed
Dimensions: 70"x72"
No liner required
I am so going to get the Royal Luxe because it is grey and pink. Our bathroom towels and mat are different shades of grey so this curtain will match really well and add a pop of colour!
Deal expires in 4 days and 1/2 days!