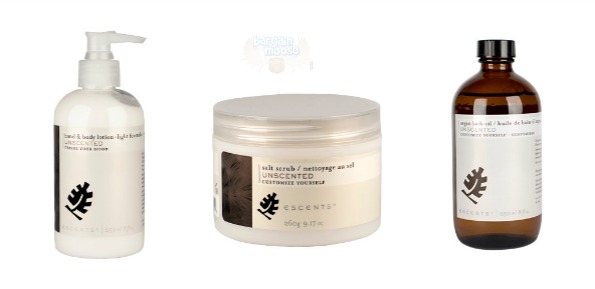 I just ran across this fantastic deal from Escents Aromatherapy. Receive 30% off unscented products when you spend $50 or more. The discount automatically comes off at checkout.
While I love fragrance, anything synthetic just kills my head. My allergic reaction has taught me to reach first for unscented products and enjoy their affects without needing to smell like a walking flower patch for the day. Here are some of the products I would buy if they were in my budget this month.
Argan oil is one of the kings of oil. It moisturizes, it soothes, and it feels just gorgeous on the skin. Soaking in a tub with Argan oil with enhance your experience as the heat opens up your pours and allows the oil to sink further in. Your skin will be baby soft after a bath with this oil. A bottle retails for $19.95 but will be 30% off if your cart totals $50 or more. That brings the bottle of oil down to $13.96.
Salt is an amazing thing. I recently heard on the radio that magnesium is a very important chemical in our bodies. It helps both our muscles and our nervous system relax and it is great for anyone with anxiety or stress. A great way to get a dose of magnesium without taking supplements is through salt scrubs and salts. The salt also helps to slog off any dead skin and makes your skin fresh and new. This container retails for $11.95 but will come down to $8.36 when you reach the required minimum.
While some people hold tight to their lotions and butters, I am a lover of oil. It sinks into the skin beautifully and gives my skin a shiny glow. I love applying it right after a shower. This unscented Almond Oil is rich in protein, vitamin A, vitamin E, and Vitamin D. Originally $12.95, get a bottle for just $9.06. I would apply this to every part of my body except my face. The face I use special lotions that are rich in aloe.
30% off is a very good-sized discount from Escents and the required minimum is not too high. For those who like scented products, you can add your own mix of oils to these products to scent them as you please.
Shipping is free on orders of $75 or more.
(Expiry: Unknown)