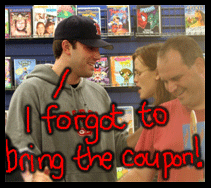 This is another post in my continuing series of blog posts about companies you can register with to get extra discounts. This week, I'm featuring BlockBusters Canada, the video rental store.
I'm on their email list and I regularly get printable coupons by email from Block Buster DVD rental store. Unfortunately, these coupons are unique and contain my personal details, so I cannot share them here on this blog. A recent example I got was a coupon for renting 2 new releases and getting 1 for free!
If you rent movies from BlockBusters on a frequent basis, I highly recommend signing up to their mailing list to try and save yourself a few dollars! For more email discounts and deals, click the "email discounts" tag below.
Here's an alternative time while I'm on the topic of DVD rental – consider using the likes of Zip.ca for movie rental – great service and great price.
Cheers for the photo ericdavid.