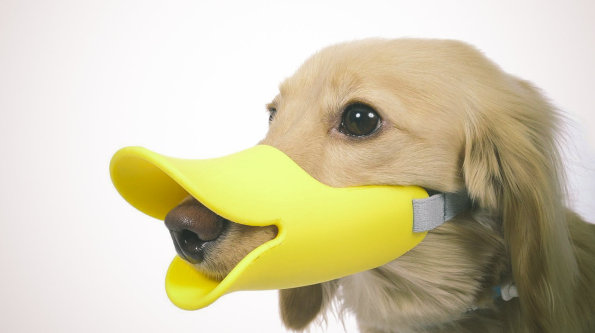 This has got to be the most adorable way to prevent your dog from biting or barking. From as low as $3.73 you can have your very own Silicone Duck Bill Adjustable Muzzle for your dog. This Amazon Canada item's price does increase as you increase the size, but all sizes have shipping included.
Want to hear "quack-quack" instead of "bark-bark"? Then check out this Pet Protection Dog Silicone Duck Bill Design Muzzle. For as little as $3.73 your dog can look like an adorable duck billed pooch instead of a growling (or barking) pup. This item does not only stop  your dog from biting, but also from barking or protesting when it comes to medication.
The Duck Billed Adjustable Muzzle comes in three sizes from Amazon.ca, with three different prices. Here are your options:
Small - $3.73
Medium - $4.53
Large - $5.13
Holidays are coming up rather quickly, and I know my dog can get a bit nervous through the hustle and bustle of having all sorts of guests come in and out of my home. Not that I think he would ever nip someone, but this Duck Billed Muzzle would be an excellent way to prevent that for sure. Or maybe you have a dog that likes to bark at the mailman passing by. This muzzle is great for both purposes, or even to get them to take medication nicer or to prevent your pooch from chewing things around the house while you're not paying complete attention.
I have two rather larger dogs, so I am not completely sure if the large size in this muzzle would be sufficient. Otherwise I would have ordered two already. These might also make a good gag-gift if you have a little humour during the Christmas season. The muzzle is a softer silicone material so it won't be uncomfortable for your canine friend. I just love it! I wonder if they make ones that look like moustaches or pig noses?
This item is shipped and sold by a secondary seller known as Ivy CA. This seller has good ratings and even includes the shipping cost in the price of this item. Most sellers who have this item for around the same price point are located in Hong Kong, but Ivy Ca has their domestic region set as Canada.
(Expiry: Unknown)