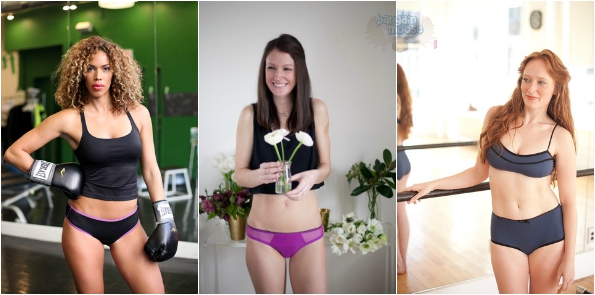 Dear Kate (US) has released a special coupon code for 50% off your order of wicking, stain releasing, and leak-resistant underwear, shorts, and more. This coupon code is valid for today and tomorrow only - so hop to it! Shipping appears to be a flat $8 across Canada.
Click here to shop the summer sale @ Dear Kates now
Coupon Code: SAILAWAY
Discount: 50% off
Expiry: 23rd July 2015
All items through the above link will be reduced by 50% with the above coupon code. While Dear Kate is a US company, all their garments are made in NYC, thus they fall under NAFTA (North American Free Trade Agreement) and there will be no duty. All prices are in USD.
I like to share sales with you that I, myself, take advantage of. Well, I just placed my order before I started blogging this deal as I love Dear Kate underwear for back up 'period panties'. I own two pairs already and just ordered another couple pairs. Here are a few recommendations.
The Yoga Short (3") with mini lining was in my cart already when it sold out in my size. However, there are plenty of sizes left. This sweet little short has a mini lining and a gorgeous short style that prevents dreaded camel-toe and looks good too. The shorts retail for $64, but after coupon code they come down to $32. I am so disappointed I didn't checkout earlier!
The Lucy Hipster Full Latte can be found in sizes XS through 3X. The larger sizes cost a bit more, but these underwear are still worth it. Full-lining (as opposed to mini lining) covers a greater area of the underwear and offers superior leak protection. These are great if your cup or tampons sometimes leak - or your bladder. Originally $36 (XS-XL), they will cost just $18 after coupon code. You can get the same line in two different styles and three different colour combinations.
While some girls hate thongs with a passion, I wear them with leggings so there is no visible panty line in the back. I picked up the Vera Thong and the Margot Thong, which I was greatly considering the Ella Thong. Each thong retails for $32, so they come down to $16 each after coupon code. It is like two for the price of one - fantastic. In retrospect, I really should have bought the Ella thong too. :(
There are a few items already on sale that you can combine with this coupon. However, sizes are limited so I suggest shopping as soon as possible. Receive free international shipping on $175.