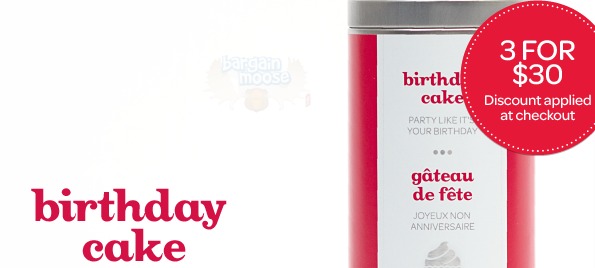 David's Tea Canada has a special in store and online offer where you get three tins of tea for $30 instead of paying $12.50 each. That saves you $7.50 overall.
There are twelve tins of teas included in this offer. I am all for trying organic detox tea which i heard actually tastes good when i was in David's this weekend. Who does not need a detox after the holidays? It includes fantastic ingredients like rooibos, sencha, ginger, ginkgo, lemongrass, and juniper berries. I know that ginger is suppose to be very good for the immune system and if i didn't hate the taste of it so much I would eat it more. However, I might be willing to try it out in tea.
For me the real attraction of this sale is the Birthday Cake Rainbow Tin. This tea is the best tea in the world. It is certainly the best tea I have ever tasted in my life and has firmly taken the position of #1 tea ever! It is like a dessert in a cup (that is only 10 calories by the way). It smells decadent and it has freeze dried ice cream and sprinkles as two of its ingredients. Hello? Taste buds calling: thank you for such a wonderful tea! I need this in my house at all times.
This is a great sale and saves you a good amount of money. Get free shipping on orders of $50 or more. Given how bulky tea (and accessories) are, that is a great deal.
(Expiry: Unknown)