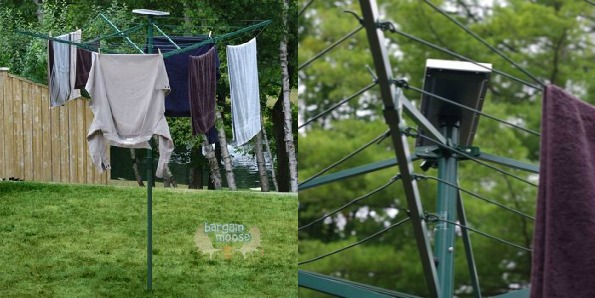 Save money on your electricity bill by drying your clothes outside, which is way more efficient. Costco Canada has the solar spin rotating clothes dryer on for only $99 right now, regularly $119.99, including shipping. When I price compared, this dryer was priced at up to $200 at other Canadian online stores.
A revolutionary way to air dry clothing happens with the solar spin clothes dryer. Your clothes dry in half the time they would on a regular clothesline due to the spinning motion that mimics a conventional dryer. Solar turbine technology is what causes the spinning, which puts air flow through the hanging clothes. Now if only you could get technology to hang them and fold them! So, not only does it use the sun to dry the clothes, it also works to provide wind to dry the clothes. There is no other more natural or cost-effective way to do laundry.
You can place the dryer on the ground or cement it into place, providing you with 140 ft. of drying space. You also get a protective bag to place over the dryer when not in use.
Reviews give it a five-star rating, saying it is really easy to use and holds a lot of clothing.
(Expiry: 28th April 2013)