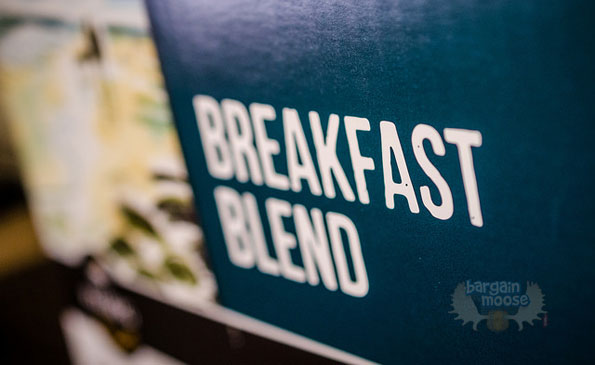 Stock up on coffee and save $10 off the purchase of two 100-count boxes of Kirkland Signature Breakfast Blend light roast coffee. Until the end of the week-end, you can get 200 k-cups for just $73.99 instead of the $83.99 original price.
Originally, I was going to blog about Costco's deal on Van Houtte Original House blend, where a 96-count box is now $6 off. You can get either the regular or the decaffeinated versions for just $43.99 instead of the regular price of $49.99. It's great deal considering that it comes down to just $0.46 per k-cup and that on Keurig's own website, you would be looking at paying $15.71 for a 24-count box, which is $0.66 per k-cup and you would still have to worry about reaching the $45 minimum threshold for free shipping.
Costco, on the other hand, offers free shipping on every order and while if you're a Van Houtte fan, that deal is worth taking advantage of right now as well, I actually much prefer Kirkland coffee. I buy their signature breakfast blend on a monthly basis because not only is it cheap, but it's also delicious. It turns out that I have been slightly overpaying but what is the most surprising is that Costco's online price for the two boxes doesn't match their in-store price but their current discount is still much better.
In-stores, I usually pay $38.99 for a 100-count box of Kirkland Signature Breakfast Blend but their online price for two boxes is $83.99, which is actually $6 more expensive than if you were to get the two boxes in-stores. Weird indeed but with the discount, you are looking at paying less. Right now, the price per k-cup is just $0.37, which is undoubtedly the lowest price I have ever seen for any coffee in k-cup format.
According to Costco's description, it's "a full-flavoured cup of sunshine" and I couldn't agree more! This has been my go-to coffee for a couple of years now and although I like to switch it up occasionally, I always end up going back to it because not only is it delicious but I also love that I can have my coffee through k-cups without paying outrageous prices for them. As I have mentioned numerous times before, grocery stores frequently sell k-cups anywhere from $0.75 all the way up to $1 and that is just outrageous! I also love that it's a light roast because that means there is more caffeine than in a darker roast.
(Image Credit: m01229)
(Expiry: 5th October 2014)